Venue & Hospitality

Any queries related to accommodation, reach us at: nursingeducation@conferenceint.com
Conference Dates: September 16-17, 2019
Hotel Services & Amenities
Audio/Visual Equipment Rental.
Business Center.
Business Phone Service.
Complimentary Printing Service.
Express Mail.
Fax.
Meeting Rooms.
Office Rental.
Photo Copying Service.
Secretarial Service.
Telex.
Typewriter.
Video Conference.
Video Messaging.
Video Phone.
ATM.
Baggage Storage.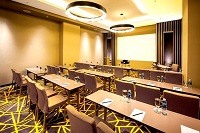 About City
Tokyo, officially Tokyo Metropolis, is the capital city of Japan and one of its 47 prefectures. The Greater Tokyo Area is the most populous metropolitan area in the world.Tokyo is a fast-paced city with an almost manic energy. The city is constantly changing, as the local obsession with newness makes fashions fade fast and the latest technologies quickly obsolete. However, the hyper-urban cosmopolis does have a more traditional side that, although not immediately evident, is still there to charm travellers with its shrines, public baths and leafy parks. The city is also as important historically as it is in the pop-culture world. The imperial family is a source of pride and an institution, and residents mix traditional societal mores with cutting-edge inventions, art, fashion and music. The Japanese capital and its culture are taking the world by storm, but it still stays faithful to its origins.
Tokyo is Japan's major cultural centre. Displays depicting the art and history of Japan and Asia are featured at the Tokyo National Museum in Ueno Park. Ueno Park is also the site of a science museum, a zoological garden, and two major art museums. Art and science museums are located close to the Imperial Palace, and museums of various types are located elsewhere in the city. Theatrical works, including everything from traditional Kabuki to modern drama, are performed regularly, as are symphonic works, operas, and other Western forms of dance and music. The University of Tokyo heads a long list of major universities and colleges in the metropolitan area.
Tokyo is the chief transportation hub for Japan, as well as an important international traffic centre. It is served by a dense network of electric railways, subways, bus lines, and highways. Tokyo station is the central railroad terminal for all of Japan, including the high-speed Shinkansen bullet trains from western Japan. Ueno Station is the terminus for rail lines running to northern Japan, and Shinjuku station is the terminus for trains from central Honshu and Tokyo's western suburbs. Several privately owned electric rail lines provide interurban transit service. Tokyo's international airport is at Narita, in Chiba prefecture, while the city's Haneda airport on the bay provides domestic service.
There is so much to see and do in the city of 12 million people, but the Asakusa district is a real highlight. The district is easily accessible by subway, but if you are not in a hurry, takes the river cruise that lazily floats up the Sumida from Tokyo Bay's Hinode pier. Once you arrive, check out the countries first skyscraper, photo studio and cinema, and then head to the Sensoji Temple. The small temple enshrines a golden statue of Kannon, the Buddhist goddess of mercy, and is located in the area's most lively neighbourhood.